Hello again and welcome back to another episode.
So today it is my pleasure to have Elise Stevens on the show. Not only is Elise a Project Management expert, she also has her own podcast which you will find on her website at fixmyprojectchaos.com

Elise specialises in stakeholder engagement and that is our chosen topic for discussion today.
More about Elise (from her website) – Podcaster, Author, Speaker, Mentor, and founder of Fix My Project Chaos.
Elise is passionate about developing and delivering results for organisations through technology and business process improvements. Elise works closely with project managers to positively impact and innovate effective management processes.
Elise has collaborated with an impressive range of organisations including Queensland Urban Utilities, Ipswich City Council, Coca-Cola Amatil, Hutchinson Telecoms and Ansett Australia.
Elise has launched over 100 podcasts for Fix My Project Chaos in recent years. You can listen to all of these podcasts on our website for free – be empowered, learn new skills and listen to discussions as Elise interviews experts from around the world on various topics. Perfectly timed for listening to on your way to work, during your lunch break, or for team meetings / discussions. See podcast topics >>
Need some support with tricky stakeholders? Learn how to engage with difficult stakeholders, and stop the daily dread of unwanted confrontations. Elise Stevens new eCourse "Four Steps for Engaging Difficult Stakeholders" will allow you to refine and expand your communication and problem-solving skills so you are prepared to work with absolutely anyone, now and in the future. Learn new skills to empower yourself, to strengthen your career, and say goodbye to stress and frustration! Learn more >>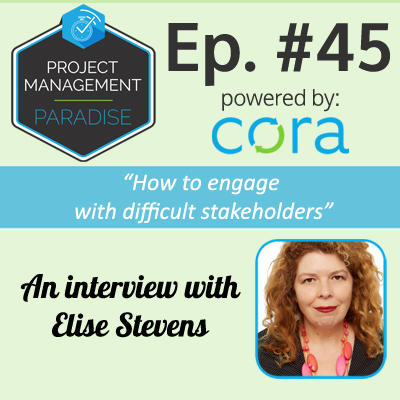 Connect with our guest on LinkedIn
Podcast: Play in new window | Download